Congratulations to all students who are accepted to readmit for Semester 2 studies at Divine Word University.  The Semester 2 Acceptance List is in the attachment below.
For students who applied for readmission and do not find your name on the acceptance list will mean your readmission application is unsuccessful.  
REGISTRATION 
Registration will begin on Monday the 28th of June 2021 to Friday the 2nd of July 2021 at the Student Services Conference Centre between 9am – 12pm. There will be no late registration after these dates. 
There are five mandatory documents that need to be presented for registration including the Acceptance Letter. Hard copies of the mandatory documents will be available at registration. These are: 
DWU Medical Form (Medical check will be accepted and done on campus) 
Covid-19 Screening questionnaire form (done upon arrival on campus) 
Signed Declaration Form – Read Circular No. 1, 2021 on the policies on Alcohol, Drug, Cybercrime, Vandalism & Occult Practices before you sign the declaration.
The Acceptance Letter will be posted to your mail and email address provided in your readmission application.
BOARDING AND LODGING 
Students must be aware that as there are limited rooms in the dormitories. Students who pay up their registration fee and any other outstanding upfront will be given priority for room allocation. Students can expect to have a choice to register as Non-Residential should there be no rooms available. You should contact the Student Services Residential Deans to confirm the availability of rooms before you arrive on campus.  
Contact Helen Kuran on 424 1825 and ask for a Dean of Men or Dean of Women.  
Email: (Dean of Men) Mr. Mathew Aiwe; عنوان البريد الإلكتروني هذا محمي من روبوتات السبام. يجب عليك تفعيل الجافاسكربت لرؤيته. or Mr. Balinus Helapu; عنوان البريد الإلكتروني هذا محمي من روبوتات السبام. يجب عليك تفعيل الجافاسكربت لرؤيته.  
and (Dean of Women) Sister Elizabeth Gilu; عنوان البريد الإلكتروني هذا محمي من روبوتات السبام. يجب عليك تفعيل الجافاسكربت لرؤيته. or Mrs. Juliet Aitsi; عنوان البريد الإلكتروني هذا محمي من روبوتات السبام. يجب عليك تفعيل الجافاسكربت لرؤيته.. 
COVID-19 SCREENING 
The Covid-19 Screening and Medical Check will be done at the DWU Clinic upon arrival before accessing University Facilities. No Covid-19 Screening and Medical Check will lessen your chances to register. 
FEE TO REGISTER 
Readmitting students are required to pay their "On-Registration Fee" and any other fees owed before registering for semester 2 studies. The Fee Structure below shows the categories of registration fees that students must pay according to the program they are undertaking to register.  
Fees must be paid into the Divine Word University account with the Bank of South Pacific (BSP), Madang Branch. The account number is 1000 433 806. For convenience, ensure that you quote the following information on your deposit slip as it is essential to identify your payment correctly. E.g.: Student ID Number, Full Name, Program and Year of study. The original deposit payment slip must be presented during registration. Any clarification on fee matters or clarifying outstanding fees/ or credit balance must be directed to Mrs. Gloria Muekia by email: عنوان البريد الإلكتروني هذا محمي من روبوتات السبام. يجب عليك تفعيل الجافاسكربت لرؤيته.  
No cash or cheques will be accepted for payment of fees during registration or at the University Finance Office. Guarantee Letters from Sponsors will also not be accepted during Registration. 
FEES STRUCTURE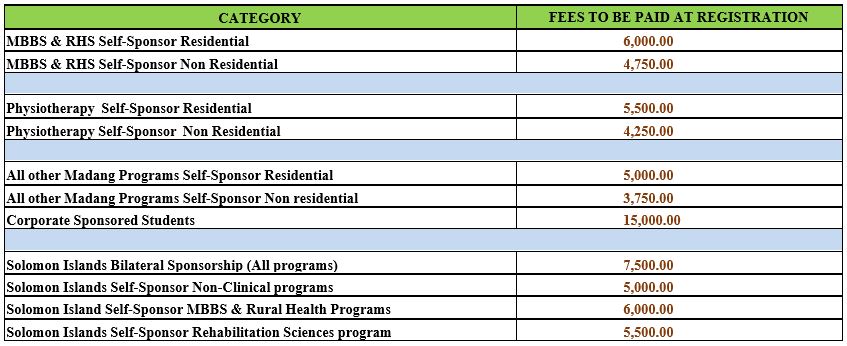 TRAVEL TO CAMPUS 
If you are traveling by Air into Madang, the University bus will pick you up from the airport upon arrival. Please confirm with the University your time of arrival on telephone no. 424 1825, 422 2937 or 422 2597 and/or Fax no. 422 2812. Attention the Fax to Ms. Helen Kuran - Student Services.  
We look forward to seeing you in our DWU Community. 
From the Registrar  
Divine Word University