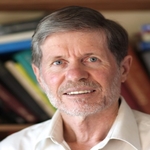 Deputy President of Divine Word University, Professor Fr Philip Gibbs SVD
Divine Word University is awaiting direction from the Controller of the State of Emergency, Mr David Manning to resume classes this week as planned.
Deputy President of DWU, Professor Father Philip Gibbs SVD noted how staff and students and the University management felt they were ready for classes starting this week.
He said the decision to resume classes was reached after assessing the coronavirus response measures put in place on campus, the capacity to conduct classes in ways that include online content, and consultation with authorities including Minister for Higher Education Mr Nick Kuman.
Professor Gibbs said DWU President Professor Cecilia Nembou is seeking advice from the SOE controller on whether the University should resume classes this week.
The Government tentatively announced 27 April as the date they would advise whether classes in all educational institutions would start, however waiting that long to begin would mean that some programs would have to continue through Christmas into New Year in order to complete the necessary learning activities.
Professor Gibbs told staff that while awaiting the response from the SOE controller, they can proceed to contact their classes "by email or Moodle or other means and by assigning some constructive activities." "The SOE has certainly provided a boost for our technological readiness," Professor Gibbs noted.
Professor Gibbs said the University had taken significant measures to safeguard its campuses against any occurrence of coronavirus since the first two-weeks of nationwide lock-down announced by the Government. The lock-down followed the first confirmed case of COVID 19 detected in Morobe Province on 13 March.
The measures put in place in the Madang campus include strict control movement of people at the main-gate, campus-wide awareness, regular meetings among various committees and management, ban on betel nut, smoking and alcohol, procurement of personnel protective equipment and use of infra-red thermometers to check the temperature of people entering the campus.
Professor Gibbs said he has also participated in the regular meetings and briefings of the response team led by the Madang Provincial Health Authority.
The University's Centre for Teaching and Learning has also been busy conducting trainings for staff to facilitate various online and blended modes of teaching and learning during the lock-down and SOE periods.
Professor Gibbs has also advised the physiotherapy department to conduct recreation and fitness activities so staff and students can boost their fitness during the SOE.
Meanwhile, Professor Gibbs said students who wish to leave and travel to other Provinces should formally withdraw from studies and not return until next year. He said those wishing to leave the campus and travel inter-province for genuine reasons will have to return and go through a period of 14 days quarantine and isolation on their return. He said this is for the good health and safety of everyone on campus.