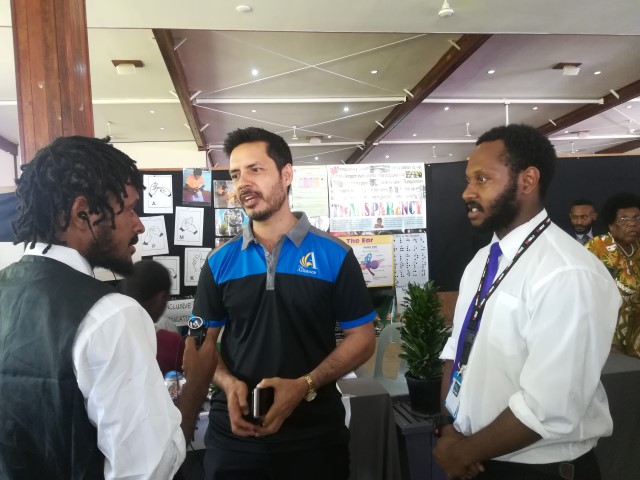 A Former student of Divine Word University and now the Member for Madang Honourable Mr Bryan Kramer is proud of the transformation of his former university.
The MP said that he was proud to see his alma mater take a leap into the new digital era, demonstrated through the students' knowledge on show at the annual Open Day at the Madang campus.
Mr Kramer said this while attending DWU's annual Open Day on Sunday 6th of May, 2018.
"It is nice to see Divine Word change from its early years, when I used to come here, from an institute to a university; that is changing every year and this transformation is shown in the students," observed Mr Kramer.
He also said that learning was different when he was a student in the former Divine Word Institute (1993-1995) and the subsequent University years (1998-1999) compared to the present.
Mr Kramer said the methods in which they learnt things was different to the methods which students at DWU learn today. The DWU students of the current era are beneficiaries of the University's strong investment in information and communication technologies (ICTs) which include 24-hour wireless Internet access and 100 per cent computer access to all students. The latter is due to the DWU's trend-setting policy to issue one-laptop per student upon full registration several years ago.
Mr Kramer said that he was proud to attend the Open Day this year, saying that DWU keeps changing every year.
"I try to attend Divine Word's Open Days and when I do come to an Open Day, it changes every year. 
"Every year there is always something new to showcase (here in DWU)," observed Mr Kramer.
Mr Kramer comes from a Catholic background and his roots (the Kramer family members) go back to early missionary workers from Germany who came to live and work in Madang in the colonial era. Back then the ordained Catholic missionaries and mission workers (lay people) from Germany were pioneers in mission work in Madang and Sepik regions.
Kramer completed his Bachelor of Business-Accounting degree in DWU in 1999 and Diploma in Business in Divine Word Institute (the predecessor of DWU) in 1995 and matriculation (also in DWI) in 1993. He did his primary school in Madang International School (Grade 1 to 8) and transferred to St Brendan's College, Yeppoon, Queensland, Australia and continued Grade 8 there.
He was in St Brendan's College for four years and upon completing Grade 11 he returned to PNGand completed Grade 12 in Divine Word Institute. Back then DWI had matriculation studies (Gr 11 and 12) and diploma and degree programs. DWU closed the matriculation studies in 2001 to concentrate on university programs.
Meanwhile, Mr Kramer was a hit at Open Day, akin to a celebrity, as DWU students and other youths stopped him to take photographs. The first-term MP is created a public profile for himself as the most outspoken leader on leadership and good governance issues notably on social media platforms including is widely-followed "Kramer Report" platform. As Mr Kramer entered the Open Day arena, the St John Paul II Hall, and moved from booth to booth, students and others could be seen stopping him for photographs and the leader obliged. Report by DWU ANTON SELVE, DWU Journalism Student.