Notice for students accepted to readmit for studies in Semester 2, 2020
Congratulations to students accepted to readmit for studies in semester 2. Students who have applied for readmission for semester 2 but do not find your names on the accepted list means your application has been unsuccessful. Unsuccessful students will be notified through letters reasons of not been selected.
Registration:
Registration will begin on Monday the 13th July to Friday 17th July, 2020 at the Student Conference Centre between 9am – 12pm. NO LATE REGISTRATION WILL BE ACCEPTED AFTER THESE DATES. You are advised to contact the Registrar's Office should you have a genuine reason for registering late and must not be late for more than five (5) lecture days. Official lectures for semester 2 will begin on Monday 20th of July 2020.
During registration you will be asked to present the following mandatory documents that you will receive with your acceptance letters:
Students must be aware that as there are limited rooms in the dormitories, students who pay up their registration fee and any other outstanding upfront will be given priority for room allocation. Students can expect to have a choice to register as Non-Residential should there be no rooms available.
Fees:
Students are expected to complete any previous outstanding fees owed to the university as well as pay the correct fees for registration depending on their program. Students who have not settled previous outstanding fees will not be allowed to register. The fee structure contains information on the required fee to pay during registration.
FEES STRUCTURE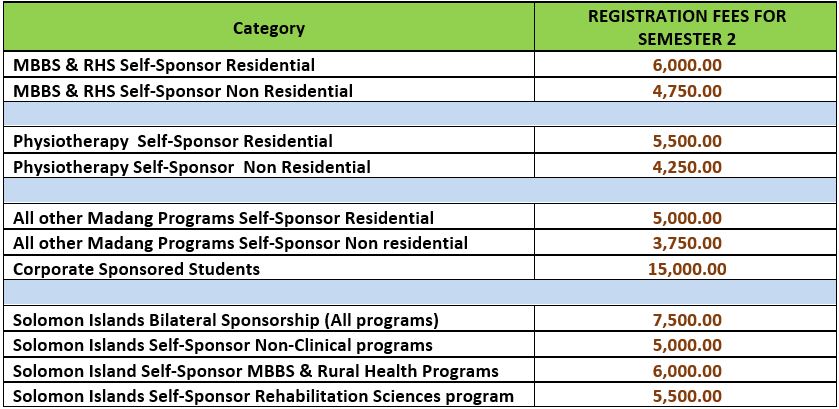 Your payment of fees must be paid to:
Bank Name: Bank of South Pacific
Account Name: Divine Word University
Account Number: 1000433806
Bank Branch: Madang Branch.
For convenience, ensure you quote the following information on your deposit slip as it is essential to correctly identify your payment. Eg: Student ID Number, Full Name, Program and Year of Study
E.g. 6168 Douglas JOHN
DWU - MCS Yr
Once payment is made, a copy of your Bank Deposit Slip must be sent to the Students' Finance Officer, Mrs Gloria Muekia on Fax No: 422 2812 or by email: This email address is being protected from spambots. You need JavaScript enabled to view it.. The original payment slip/deposit payment slip must be presented during registration. Any clarification on fees matters must be directed Mrs Gloria Muekia.
Travel Requirements to Campus
If you are traveling by Air into Madang, the University bus will pick you up from the airport upon arrival. Please confirm with the University your time of arrival on telephone no. 424 1825, 422 2937 or 422 2597 and/or Fax no. 422 2812. Attention the Fax to Helen Kuran-Student Services.
14-Day Quarantine requirements
Students identified as living in border provinces, that is Western Province, Sandaun Province and the Autonomous Region of Bougainville will have their names submitted to the Student Services to undergo a 14-day quarantine requirement. Students living in these border areas must adhere to these instructions and present to the university at least 3 weeks before registration. Registration is subject to this requirement. Students must inform the university of their travel details through the Student Services Division by emailing Mr Jam Wamo on This email address is being protected from spambots. You need JavaScript enabled to view it. to coordinate accordingly.
Thank you
OFFICE OF THE REGISTRAR
DIVINE WORD UNIVERSITY